Automakers across the world are currently embracing new trends and business models in the transportation industry, in an effort to combat declining car sales – focusing on alternatives to car ownership, as well as new technologies, such as automation. German car manufacturers BMW and Daimler, giants in the automobile industry have recently pooled their resources in a bid to take control of the mobility sector.
The two companies announced that they will be investing $1.1 billion into the venture, which will cover everything from autonomous vehicles, ride-hailing, electric scooter, car-sharing, and electric car charging.
Read on to learn more about the billion dollar joint mobility merger. For previous trending articles in the mobility market, check out our blog here.
The Future of Transportation: BMW & Daimler Merger
Previously BMW and (Mercedes-parent) Daimler were both leaders and rivals in the automotive industry before their unification. The merger officially commenced last month in Berlin and fuses 14 different brands that have a combined user/customer base of 60 million people. According to both companies, the large investment will also create 1,000 new jobs within the mobility sector.
The joint-venture has created five partnerships:
ReachNow: ReachNow was the carsharservice operating in Seattle, and Portland, Oregon. It uses a mobile app for car reservations and operates a fleet of over 1,000 vehicles. It now merges with Daimler's moovel, focused on Mobility-as-a-Service.
ChargeNow: ChargeNow offers you the best possible look for the nearest electric car charger. You can locate them, check for availability and pay for the electricity from the app, covering over 100,000 charge points across 25 countries.
FreeNow: FreeNow offers users a variety of mobility services including taxis, private chauffeurs with rental vehicles, and state-of-the-art e-scooters. The app is already serving more than 21 million people and has over 250,000 drivers.
ParkNow: a digital, integrated service for finding parking places using the real-time ParkNow App.
ShareNow: Car2Go, a free-floating car-sharing service, will now become ShareNow in wake of the merger.
In a recent interview, BMW CEO, Harald Krueger said,
"We are creating a leading global game changer. These five services will merge ever more closely to form a single mobility service portfolio with an all-electric, self-driving fleet of vehicles that charge and park autonomously and interconnect with the other modes of transport."
COOPERATION IS KEY to future success
For decades, BMW and Daimler have been in fierce competition with each other but in this recent turn of events, both companies believe that their combined efforts will help them dominate the market. Not just the automative industry either, but also the shared mobility market. Along with spreading the success, the companies will also be spreading the risk. Neither company will loose too much if their work in mobility technologies fizzles out. In a press conference in Berlin back in February, Daimler CEO Dieter Zetsche said,
"But time is changing, there are people who are not interested in car ownership, but in mobility. Individual mobility, on-demand. And that's where both companies came to the conclusion this is a field where we can be stronger together than separately."
Automotive Partnerships
Of course, BMW and Daimler are not the first companies to combine forces in an effort to dominate and succeed. Other global auto companies have discovered that the future of transportation and shared mobility is in cooperation, not competition with each other. For example, companies such as Honda and General Motors are teaming up to work on new generation fuel cell technologies, building on both companies strengths as leaders in hydrogen fuel cell technology.
Ford and Volkswagen have also paired up to build commercial vans together, and are exploring collaborations on autonomous and electric vehicles as well as new mobility services. However, these deals are rarely exclusive as Volkswagen has also partnered up with Mobileye, the computer vision firm owned by Intel, to launch a commercial, self-driving ride-hailing service in Israel in 2019.
Similarly, BMW and Daimler are not mutually exclusive to each other either. Not all their companies' mobility platforms/services will be subject to the merger. An example is Daimler's robot taxi service with Bosch that they will be launching later this year in San Jose, California. Likewise, BMW is part of a super group that includes Intel, Mobileye, and Fiat Chrysler that is working on the development of semi/fully autonomous technologies for production vehicles.
Branding: from 'Jurbey' to 'now'
So far, the merger of these two automotive giants appears to be a successful one. Time will tell if they achieve their goals of market domination and the advancement of mobility technologies. However, when it comes to branding, it is clear that German car manufacturers are not at the top of their game.
A main goal of the merger, was to combine their car-sharing businesses to compete with ride-hailing firms like Uber in the United States and Didi in China. What they needed was a catchy name and some 'on-trend' branding. Initially, the companies had decided to call their new carshare alliance 'Jurbey' – which, in our opinion, does not epitomize the 'luxury' of their previous, separate brands. 'Now' is the current name for the brand that has five created five sub-partnerships, as previously mentioned; ReachNow, ChargeNow, FreeNow, ParkNow and ShareNow. We understand how the use of the word 'Now' describes the on-demand nature of each of the businesses but a few of the names are not as clear. For example, 'FreeNow' offers a variety of mobility options including taxis, rental vehicles, and and e-scooters, yet none of these services are actually 'Free'. The name choice may not be entirely 'on-brand' or a highly creative concept, but it is easy to understand how they will always be recognisable and connected partnerships by the public.
A SMALL INVESTMENT OF $1.1 BILLION
Even though $1.1 Billion is enough for other leaders in the automotive industry to stand up and take notice, BMW and Daimler's joint investment is a minuscule amount in comparison to other mobility investments within the last two years
Since 2010, nearly $111 billion has been invested in new mobility technologies. Less than a third of these relate to shared-mobility companies; the rest focus on the trends of automation and connectivity. Out of the $111 billion, more than 60 percent come from large investments with disclosed transaction values greater than $1 billion, and the rest from small investments.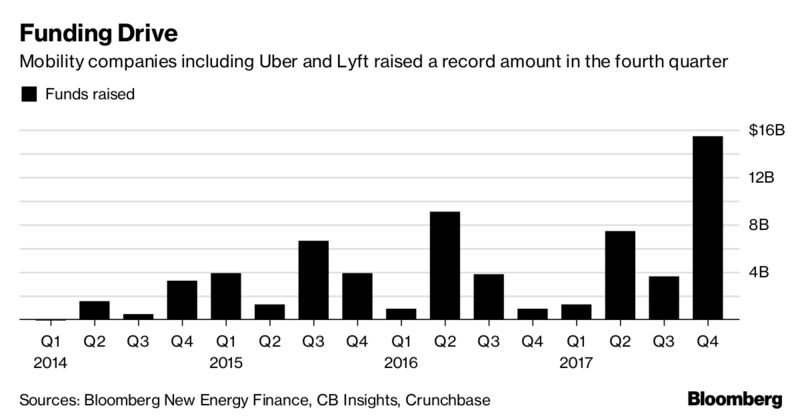 In 2017, mobility startups brought in a massive $28 billion from investors. In the last quarter of 2017 alone, ride-hailing companies such as Uber Technologies Inc. and China-based Didi Chuxing raised an all-time record of $15.5 billion, according to the Bloomberg New Energy Finance report.
At the beginning of 2018, Google invested in Go-Jek, the biggest ride-hailing service in Indonesia; and BMW bought out the European car-sharing venture DriveNow – now, of course, they have merged with Daimler. In addition, big oil companies are making moves into the space. JXTG Nippon Oil & Energy is exploring starting an electric car sharing service at its gas stations to offset expected declines in oil revenues.
As of January, 2019, the top five digital ride hailing companies have valued at more that $129 billion according to BNEF. By the end of 2017, the number of passengers using digital hailing apps worldwide was 769 million. As user numbers grow ever closer to one billion mark, it is easy to see that future investments into mobility companies and technologies will continue to reflect this ever growing, popular market space.
Do you have a form of shared mobility you'd like to see covered in our trend series? Tell us about it here.
Disclaimer: This article has not been endorsed or sponsored by BMW, Daimler or any of the companies referenced above. There is no affiliation between movmi and BMW or Daimler.